Modular Structures - Steel Mezzanines, Floors, In-Plant Offices and Industrial Canopies
Our modular structures are ideal for Hawaii warehouse space problems. All designs are modular so they can be easily pre-engineered and build to specifications to meet your individual needs. This makes for quick installation at the job site so our construction from start to finish is much shorter than trying to create something from scratch. Make use of the wasted overhead air space in your warehouse.
---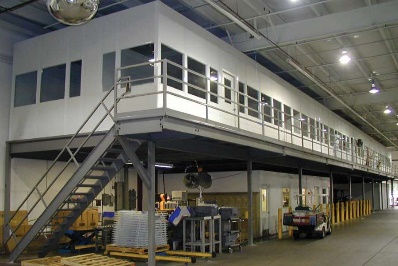 ---
Modular mezzanines, mezzanine floors, metal buildings, industrial canopies, modular offices, support platforms, and trade show booths are designed and engineered to meet your specific workspace needs and load requirements. Pre-engineered modular components are the core of your custom structure, reducing architect and engineer costs and time. Our factory prefabricated mezzanine structures are shipped for on-site assembly which reduces the expense and time delays of conventional construction.
Our pre-engineered modular components include support platforms, metal buildings, double decks, and a variety of accessories such as guard rails and stair systems. Our custom metal buildings include multi-story structures, canopies and pump and equipment buildings. Our modular structures are used for in-plant modular offices, clean rooms, 2nd floor storage rooms, utility rooms, guard shacks, mezzanines, and parking lot attendant booths.
All structures meet applicable building codes including the rigorous specifications demanded in seismically active zones. FCP's ConnectRite™ system is the first moment-resistant, bi-directional rigid frame to be approved by the American Iron and Steel Institute (AISI). This approval provides a faster permit process. Our system provides a robust structure that easily achieves most required clear spans.
---
---
---
Design Assistance
We can assist customers in planning how a new mezzanine or in-plant office can help meet your current and future space requirements. By developing this plan we will create a clear vision of the interrelationship between employees, office locations, machinery and storage space needed. Unistrut Hawaii utilizes advanced computer technology to design and estimate your project requirements. This approach will reduce estimating and design time and accurately blueprints your project structure.
Structural Engineering
Our expertise and experience will ensure that all site conditions, soil/foundation, seismic forces and local codes are factored into your project design. Each structure we recommend will be engineered appropriate based on your intended use and site conditions. If you have unusual needs, we can develop a custom structure that will be engineered appropriate for your needs.