In-Plant Modular Offices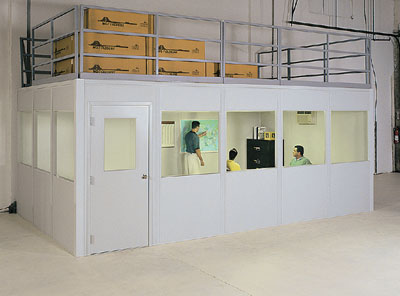 In-Plant Modular offices designed with the flexibility to be reconfigured for your changing facilities requirements. Our systems are designed to accommodate small to multi-office complexes of several thousand feet. Systems flexibility and reusability allows future reconfiguration of your space. Modular office walls can be customized with a variety of colors and textures. Modular offices hold many advantages over stick-built construction. The ability to disassemble a room and relocate it elsewhere or redesign the layout for another application gives owners maximum flexibility. Prefabricated modular wall panels mean construction times are a fraction of conventional methods with substantially reduced mess and plant disruptions. Designing to specific industrial requirements with superior manufacturing and materials allows National to meet tough sound control conditions, as well as fire ratings and insulation. Optional steel facings and continuously supported substrates offer superior strength and durability. The best advantage of all is the ability to use fast seven-year depreciation rather than 39.5 years with conventional construction, providing a tremendous 32.4% price advantage. With all these advantages, you can see why more people are turning to our modular offices for their modular office building requirements. Two Story: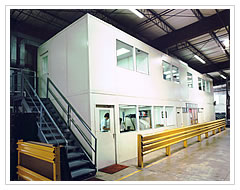 Two Story Maximizer modular office allows maximum use of limited floor space. Excellent for supervisory offices with a clear view of plant work areas. Standard designs use 50-100 psf floor loads L/360 deflection. Steel supports are fully concealed and independent of the wall system. Stairs meet OSHA, BOCA and UBC Codes.
Provides excellent supervisory views
Floor live loads have capacity of 50 to 100 psf l/360 deflection
All structural steel columns are independent of the walls for maximum flexibility
Stair treads and hand rails are pre-assembled for fast installation
Economical ValueWall or the premium PremierWall Systems can be used
Designs for a wide range of sound control available
Fire retardant designs up to one-hour ratings are available
All systems are insulated for energy efficiency
Faster, easier and more convenient than conventional construction
Professional Installations Nationwide
10 Year Guarantee
Vision Tower: A VISION TOWER modular office allows maximum use of limited floor space. Excellent for supervisory offices with a clear view of plant work areas. Standard designs use 100-psf floor load l/240 deflection. Stairs meet strict UBC, BOCA, and OSHA codes. Clear wide spans allow open space below for working areas. Designed to meet all seismic zones. Connections are bolt assembly, no welding required.

Provides excellent supervisory views
Floor loads are 100-psf l/240 deflection
Deck heights are 8 to 12 feet
Frees valuable manufacturing areas underneath
Maximizes the use of expensive floor space
The fastest mezzanine installation
The easiest mezzanine to move
Uses the economical ValueWall or the premium ToughWall System
Designs for a wide range of sound control and fire ratings
Professional installations nationwide
10 Year Guarantee